Sorbitan Fatty Acid Ester
Product No.:HS 3402900090
PRODUCT DESCRIPTION:

Span is a chemically synthesized product of various fatty acids and sorbitol obtained by shunting vegetable oils. It can be used as a Food Emulsifier in accordance with GB2760-86. It's safe, non-toxic and non-irritating. This series of products are lipophilic nonionic Emulsifiers, with an HLB value of 1.8-8.6, and can be dissolved in polar organic solvents and oils.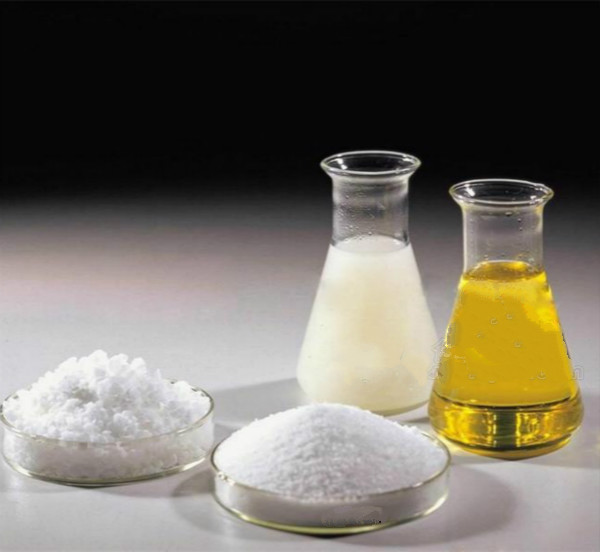 【Product Name】Sorbitan Fatty Acid Ester/Span
【Emulsifier type】Nonionic Surfactant
【Item Code】S-20,S-40,S-60,S-65, S-80,S-85(can also customerized)
【Technical Data Sheet】
Item

Appearance

(25℃)

Hydroxyl Value(mgKOH/g)

Saponification Value(mgKOH/g)

Acid Value(mgKOH/g)

Water(%)

HLB

Melting Point

(℃)

S-20

Amber viscous liquid

330~360

160~175

≤8

≤1.5

8.6

Liquid(25℃)

S-40

Yellowish waxy solid

255~290

140~150

≤8

≤1.5

6.7

45~47

S-60

Yellowish waxy solid

240~270

135~155

≤8

≤1.5

4.7

52~54

S-80

Amber viscous oil

190~220

140~160

≤10

≤1.5

4.3

Liquid(25℃)

S-85

Yellow oily liquid

60~80

165~185

≤15

≤1.5

1.8

Liquid (25℃)
【Performance and Application】

S20

1. Span S20 is soluble in oil and organic solvents, dispersed in water as a semi-emulsion liquid.

2、Span S20 is used as W/O emulsifier, stabilizer, plasticizer, lubricant, desiccant in the production of Medicine and Cosmetics;

It's used as softener, anti-static agent, finishing agent in the textile industry; also used as a mechanical lubricant;

It's as an additive Anti-fogging agent with good initial and low-temperature anti-fogging properties, suitable for PVC (1~1.5%), polyolefin film (0.5~0.7%), EVA film.

S40

1. Span S40 is soluble in oil and organic solvents, dispersed in water as a semi-emulsion liquid.

2. Span S40 is used as emulsifier and dispersant in Food and Cosmetic industry;

It's used as emulsifier and stabilizer in emulsion polymerization;

It's used as dispersant in printing ink;

It's also used as textile waterproof coating additive, oil emulsifier and dispersant; widely used in Polymer Anti-fog Drops Agent, PVC agricultural film 1~1.7%, EVA 0.5~0.7%.

S60

1、Span S60 is insoluble in water and dispersed in hot water. It is a good w/o type emulsifier with strong emulsifying, dispersing and lubricating properties. It is also a good stabilizer and defoamer.

2、Span S60 is used as an emulsifier in the Food Industry, used in the production of Beverages, Toffee, Ice cream, Bread, Pastries, Malted milk, Margarine, Chocolate, etc.;

It's used as an anti-static agent and soft oiling agent for acrylic fiber in the textile industry Components;

It's used as emulsifiers and stabilizers in the Food, Pesticide, Pharmaceutical, Cosmetics, Paint, and Plastic industries;

It's used as anti-fog drip agent for PVC, EVA, PE and other films, the amount of 1.5 to 1.8% in PVC , The dosage in EVA is 0.7~1%.

S80

1. Span S80 is hardly soluble in water, soluble in hot oil and organic solvents, and is a high-grade lipophilic emulsifier.

2. It's used in W/O latex explosive, nylon and viscose cord oil, it has a good smoothing effect on the fiber.

It's used for emulsification of machinery, coatings, chemicals, explosives.

It's used as emulsifier in oil drilling weighting mud; used as emulsifier in food and cosmetic production;

It's used as dispersant in paint and coating industry; used as stabilizer in titanium dioxide production;

It's used as insecticide, wetting agent, emulsifier in pesticide production ; Used as a co-solvent in petroleum products;

It's can also be used as an anti-rust oil anti-rust agent. Lubricant and softener for textiles and leather.

3. Span S85 as a film anti-fogging agent, it has good initial and low-temperature anti-fogging properties. The dosage in PVC is 1 to 1.5%, and the dosage in polyolefin is 0.5 to 0.7%.

S85

1. Span 85 is slightly soluble in isopropyl alcohol, tetrachloroethylene, cottonseed oil, etc.

2. Span 85 is mainly used in medicine, cosmetics, textiles, paints and petroleum industries, as emulsifiers, thickeners, rust inhibitors, etc.
【Packing and Storage】
S-20, S-80, S-85 are packed in 50Kg plastic drums; S-40, S-60 are packed in 20kg woven bags. Store and transport as general chemicals. Store in a dry and ventilated place. The shelf life is 2 years.


OUR SERVICE:


1.

24Hour-On-Line Professional Quick Response.
2.

15years of Exporting Experience to more than 20 countries all over the world.
3.

Fast delivery within 10working days after payment.
4.

Flexible payment methods: TT, LC, DP, Western Union, Paypal.
5.

Professional guide on your purchase strategy based on market trendency.
FAQ:
Q1: Are you trading company or manufacturer?
A1: We are trading company but we also have our own factory and cooperate factories. So we can provide wholesale price and provide kinds of products that you need.

Q2: How can I get the samples?
A2: We can provide you free sample for our existing products, the lead time is about 1-2 days.
You just need to pay the sample delivery cost.

Q3: Can you provide relevant documents?
A3: Of course. We can provide Commercial Invoice, Packing List, Bill of loading, COA,
Health certificate and Origin certificate. If your markets have any special requirements,
just let us know.

Q4: Do you accept third party inspection?
A4: Yes.we do.

Q5: If the inspection result can not meet the agreement between the two sides,
can you bear all the losses caused by this?
A5: Yes, we can. We guarantee that the samples provided will meet the needs of our
clients and we will bear the risk of default.

Q6: What types of containers are used to package products from your company?
A6: It is generally 20'FCL or according to customers' requirement.

Q7: How long is your delivery time?
A7: Generally it is with 7 days if the goods are in stock. According to quantity your required,
the delivery time may slightly change.

Q8: What's your terms of payment?
A8: We can accept various payment methods, L/C, T/T, D/A, D/P, O/A, Paypal, Western Union etc.

Q9: Can your company accept the special requirements of your customers?
A9: Of course, we can.

HOW TO CONTACT US:
We're 24hours available by the following:
Mobile/ Wechat/ Whatsapp/ Imo: 0086-13735430199
Email/Skype: Susan@tenwaychem.com